Kidney Failure in Dogs
Kidney failure is defined as the inability of the kidneys to remove waste products from the blood. The buildup of toxins produces the signs and symptoms of uremic poisoning. Kidney failure can appear suddenly (acute kidney failure) or come on gradually over months. Most cases are of the gradual onset type and are caused by nephritis and nephrosis.
Causes of acute kidney failure include: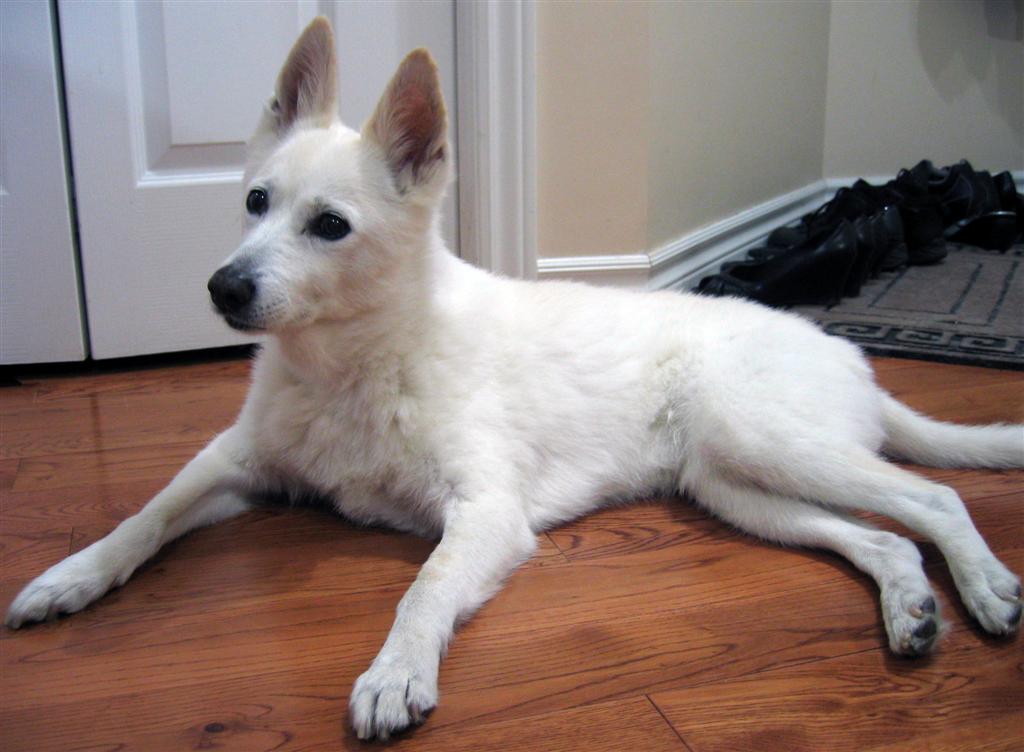 Complete urinary tract obstruction caused by a stone
Rupture of the bladder or urethra
Shock, with inadequate blood flow to the kidneys
Congestive heart failure with low blood pressure and reduced blood flow to the kidneys
Poisoning, especially from antifreeze
Leptospirosis
Dogs with kidney failure do not show signs of uremia until 75 percent of functioning kidney tissue is destroyed. Thus, a considerable amount of damage occurs before the signs are noticed.
Signs of Kidney Failure
One of the first things you may notice is that your dog drinks and urinates more than usual and indicates her need to go outside to eliminate several times a day. If not allowed to do so, the dog may begin to have house training accidents in the house. These signs are due to the failure of the kidneys to concentrate the urine. This results in a large urine output over which the dog has no control, with subsequent dehydration and thirst.
As kidney function declines, the dog retains ammonia, nitrogen, acids, and other chemical wastes in her blood and tissues. This is called uremia. The degree of uremia is determined by measuring serum blood urea nitrogen (BUN), creatinine, and electrolytes.
Signs of uremia are apathy and depression, loss of appetite and weight, a dry haircoat, a brownish discoloration to the surface of the tongue, and an ammonialike odor to the breath. Dogs at this stage may urinate less than normal. Ulcers may arise in the mouth. With the nephrotic syndrome the dog develops ascites and edema. Vomiting, diarrhea, and gastrointestinal bleeding may occur. At the end stages of kidney failure, the dog falls into a coma.
Treating Kidney Failure
Dogs with kidney failure require periodic monitoring of blood chemistries to detect changes in kidney function that may require medical intervention. A most important step is to restrict salt intake. This helps prevent edema, ascites, and hypertension.
Protein is poorly metabolized by dogs with kidney failure, but what to do about protein levels in the diet is currently an area of controversy. Some veterinarians believe a diet rich in meat, or one that contains poor-quality protein, creates an increased nitrogen load that must be handled by the liver and kidneys. Dogs with weak kidneys can be thrown into uremia by feeding them more protein than they can handle. Other veterinarians believe that as long as the protein is of high biological value, it will help the kidneys retain their function. Diet may need to be customized to the individual dog.
Restricting phosphorus intake is agreed upon by all. Medications to lower phosphorus levels may be required along with dietary adjustments.
It is extremely important to provide fresh water at all times. The dog must be able to take in enough water to compensate for her large urine output. Some dogs will need occasional boosts to their fluid intake. This can be done by giving subcutaneous (known as sub-Q or SQ) fluids. With most dogs, their owners can learn how to do this at home. In the later stages of kidney failure, dogs may need sub-Q fluids daily.
Some types of kidney failure are acute, and are mild enough that if the dog is well supported medically, there will be a complete recovery. More commonly, dogs will have at least some renal function deficit and need a change in care for the rest of their lives. With chronic renal failure, there is no cure; the disease must be controlled as well as possible for the rest of the dog's life.
Dialysis
Dialysis describes two therapies that try to duplicate the filtering tasks of the kidneys. In peritoneal dialysis, special fluid is put into the abdomen using a catheter. The fluid then washes tissues and absorbs toxins from the body across tissue barriers. After a set period of time, the fluid is removed through the same catheter, taking the toxins out with it. This technique has been used in veterinary referral centers for short-term kidney problems such as antifreeze poisonings.
Hemodialysis is the second technique. This therapy is only available at a few referral centers across the country, because the equipment is expensive and must be specially designed to work with dogs. The dog's blood is circulated through a machine with filters that tries to duplicate the filtering tasks of a healthy kidney.
Kidney Transplant
Another option for dogs with terminal kidney failure is to consider a kidney transplant. Kidney transplants are only done a few veterinary referral centers, but are becoming more common. As with human transplant patients, drugs must be given post-transplant to prevent organ rejection. These drugs are quite expensive and must be carefully calibrated to minimize side effects.
Original Ariticle: https://pets.webmd.com/dogs/kidney-failure-in-dogs

https://www.kg-testsite.com/ovsh/wp-content/uploads/2018/12/OVSH-Logo-300x123.png
0
0
Oregon Veterinary Specialty Hospital
https://www.kg-testsite.com/ovsh/wp-content/uploads/2018/12/OVSH-Logo-300x123.png
Oregon Veterinary Specialty Hospital
2013-11-07 16:17:49
2013-11-07 16:17:49
Kidney Failure in Dogs